The Rotation Room Grand Opening Seminar
June 3, 2023 - All Day Seminar



REGISTRATION IS NOW CLOSED

Grand Opening of The Rotation Room in Kitchener Waterloo at RIM Park!
2001 University Ave, Waterloo, ON N2K 4K4
June 3, 2023
9:00am-5:15pm
Over the past few months, KWSC staff have worked alongside Jonathan Mills and the TRR staff to bring a Rotation Room to Kitchener-Waterloo. This new addition to our facility will greatly benefit skaters from KWSC and surrounding skating Clubs. Our aim is to support the skill development and performance of skaters by offering harness lessons and spinners as a new element to skater training models.

To celebrate the new Rotation Room in Kitchener Waterloo, KWSC will be hosting a full day seminar with some amazing special guests and presenters!

REGISTRATION DESK
Located inside the main doors at RIM Park entrance (door A), in front of The KWSC Office, from 9:00-9:30am.
GROUPS
Groupings and a detailed group schedule will be assigned and provided to you when you check-in at the Registration Desk.
OPENING CEREMONY
9:00-9:15am in The Rotation Room, beside the Carolyn Fedy Skating Centre in RIM Park. Open to anyone who wishes to attend.

SEMINAR SCHEDULE – CLICK HERE FOR SEMINAR SCHEDULE

SPECIAL GUESTS

JONATHAN MILLS, International Coach & The Rotation Room Founder
BRIAN ORSER, World Champion & Olympic Medalist, Coach of Olympic & World Champions
TRACY WILSON, World & Olympic Medalist, Coach of Olympic & World Champions
DR. JUDY GOSS, Skate Canada Mental Coach Advisor
JOSÉE BOURDON, Skate Canada Senior Manager, Coaching
CODY HAY, Olympian and Jump Technician

SABRINA WONG, ISU Official
ADAM SCHUMACHER, Jackson Ultima Sales Representative

SEMINAR LOCATIONS + MAP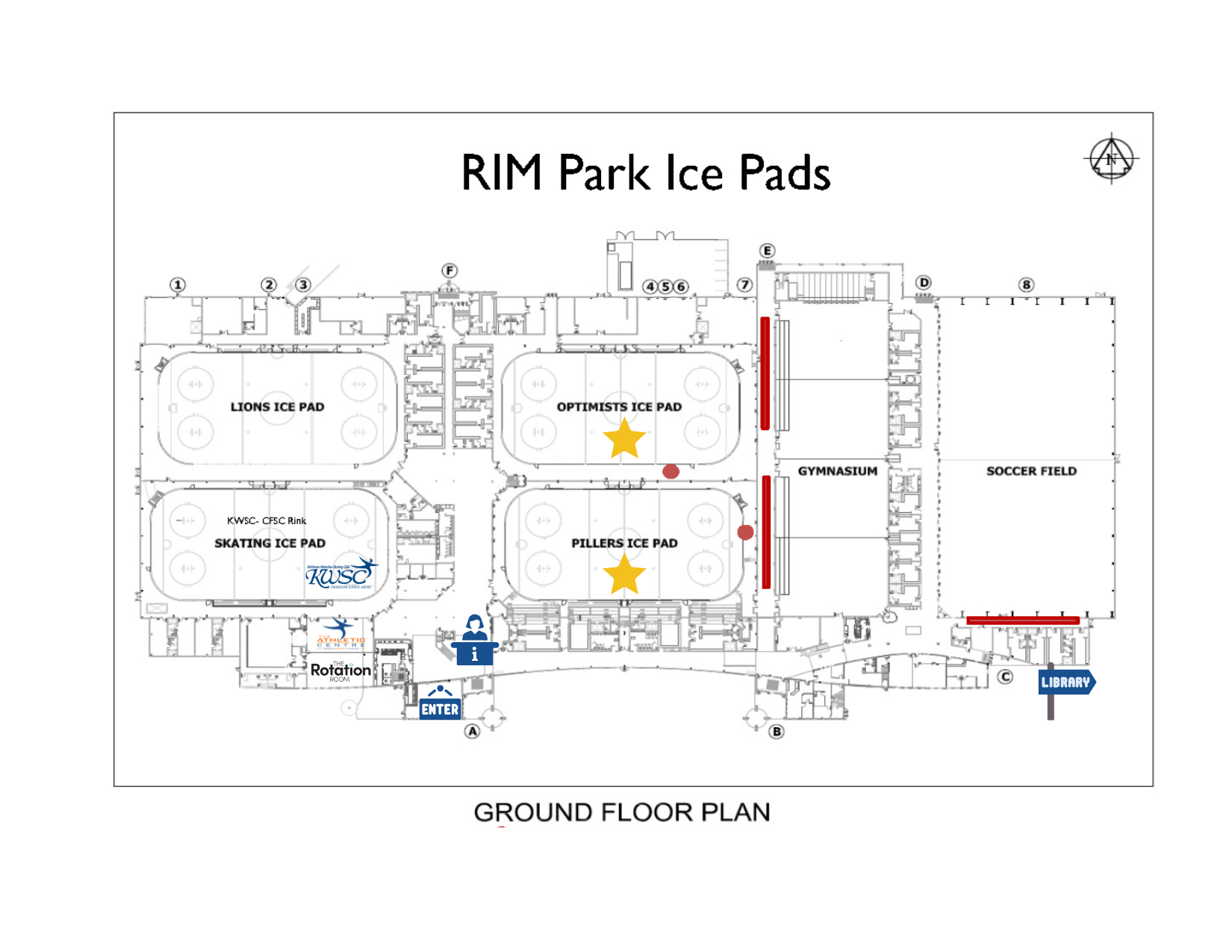 Ice Pads
We are using two (2) ice pads for the seminar. The Pillers rink is located closest to the main doors of RIM Park, by the entrance and across from the KWSC Office. The Optimist rink is located next to the Pillers rink. Please check the schedule as to which rink you will be in and follow the signs.
The Rotation Room
The Rotation Room is located in the Carolyn Fedy Skating Centre.
The Dance Studio
The Dance Studio is located in the Carolyn Fedy Skating Centre.
Meeting Room 1
Meeting room 1 is located in the Carolyn Fedy Skating Centre
Library
The library is located at the far end of the building. There will be signs posted at registration to help guide you.
WHAT TO BRING:
Please bring your own lunch, snacks and water bottle.
kates, running shoes and athletic attire required.
Please bring skate guard to wear between the dressing rooms and the ice pads as there are no rubber mats down in the main lobby.
Long hair tied back
Pen and notebook for in-class session (optional)
SNACKS AND LUNCH:
Lunch is scheduled for all participants between 1:00-1:45pm. Skaters are required to bring their own lunch. Food is not provided.
Skaters are required to bring their own snacks if they wish to have something in between their sessions. Food is not provided.
Water fountains/filling stations are available throughout RIM Park
DRESSING ROOMS
Dressing rooms will be assigned at the registration desk.
PRIZES
There will be a draw for three (3) prizes for the skaters and three (3) prizes for Coaches.
1st Prize – 2 hours of TRR drop-in Time
2nd Prize- 1 hour of TRR drop - in Time
3rd Prize – TRR Duffle Bag
The draw for skater prizes will be announced during the lunch hour in the main lobby at RIM Park by the registration desk. The draw for the coach prizes will be announced in the library at the end of the LTD Presentation.

SUPERVISION
Parents/guardians are required to stay for the duration of seminar only if their child/skater cannot independently navigate the seminar.

ADDITIONAL HARNESS/SPINNER TIME AVAILABLE
There will be additional harness/spinner time available at the end of the day between 5:30-7:00pm. There is NO extra cost. Space is limited and on a first come, first served basis.
The Sign-up sheet will be at the registration desk for anyone who is interested.

PARENT/GUARDIAN SESSIONS
Space is limited in the Library and in Meeting Room 1.
We ask that only one (1) Parent per child/family attend the Parents sessions.
Parents/Guardians can sign-up for sessions at the registration desk at the beginning of the day.

1:00pm – 1:45pm – Library – LTD with Josée Bourdon
3:00pm – 3:45pm – Room 1 – Mental and Self Skills – Dr. Judy Goss
4:40pm – 5:20pm – Room 1 – Ice Equipment Education – Adam Schumacher
COACHES
There are scheduled Coaches sessions, however Coaches can attend any of the on-ice sessions. We encourage you to wear your skates on the ice as you may not be able to hear what the facilitators are saying if standing on the side of the rink.

Questions? Please contact kwsc@kwsc.org or visit https://www.kwsc.org/events/seminars/
Come one, come all, as we are pleased to share with you our new harness gym: The Rotation Room in Kitchener Waterloo! Mark in your calendars, June 3rd and join us in an off-ice journey like no other!